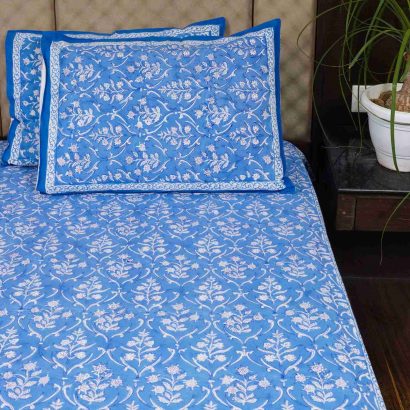 Jaipur Hastkar offers you a wide selection of bedsheets online in India to choose from to give your bedroom a cohesive feel and luxurious appeal. Our Hand block bed sheets are high quality and suitable for use on king, queen, and double beds.
Delivery and return
Delivery and return
Next day delivery in store
Buy before 6pm to receive your order next day.
Next day delivery
Orders before 6pm from Monday to Saturday (or before 1pm on Sunday) will be delivered Next working day (except Northern Ireland and Highlands). Orders placed after 6pm (after 1pm on Sunday) or for Northern Ireland and Highlands will be delivered in 2 working days.
Drop Point
In 2-3 working days. Pick up your parcel in one of the many diferent collection points available and during a wide range of hours.
Same day delivery in London:
Place your order before 13:00 to get it today!. If you order later on, you'll receive it the next day and if you order on Sunday, you'll receive it the next working day.
Shipping Information
Shipping Information
SHIPPING
Complimentary ground shipping within 1 to 7 business days In-store collection available within 1 to 7 business days Next-day and Express delivery options also available Purchases are delivered in an orange box tied with a Bolduc ribbon, with the exception of certain items See the delivery FAQs for details on shipping methods, costs and delivery times
Composition and care
Composition and care
Characteristics of wood :
Hard, compact , fiberous and porous
Good wood gives a rich, warm and beautiful surface.
Wood is used for the construction of:
Floor, Furniture, Walls
Incidental furnishing (lampshades, picture frames)
Kitchen & restaurant ware
Description
Understand Amazing Jaipuri Bed Sheets Options To Help You Spruce Up Your Bedroom Before You Regret.
The quality and the design of the bed sheets you pick are an essential part of your lifestyle, so you need to be careful when opting for bedsheet online shopping. Not all the brands in the market are trustworthy, and they never seem to last longer than three months. If you're planning to give a new look to your bedroom, you need to pick the right option. Make your home extra cost by decorating it with beautiful and elegant hand block Jaipuri bedsheets
Hand block Bedsheets in Jaipur are available in a variety of styles 
Buy block print bedsheets from Jaipur Hastkar  to create a personal retreat. Choose from our range of comfortable, cool, and modern bed sheets. Enjoy designing your own unique style with our exclusive range of bedsheet designs in classic solid colors and ethnic hand block printed textures. Be amazed by the many brightly coloured and fun designs that you can use to decorate every room in your house.
Best hand block bedsheets in Jaipur for Your Home!
Our hand block printed bedsheets are the perfect way to add some whimsy to your bedroom! A must-have for any season, cotton handmade bed sheets were something we saw as a solution that would allow people to continue to unwind after a long day. Choose from our funky collection of printed and patterned sheets and decorate your bedroom with one of these inviting handcrafted pieces today!
Top Reasons Why Jaipur Hastkar Hand Block Printed Bedsheets Stand Out from Other Brands
Statement Designs – Each sheet is handcrafted by expert artisans with years of experience to create a luxurious bed cover for your bed. The bed sheets have a delicate design that gives the set a beautiful monochrome look and they would go perfectly with any type of décor. Pure Cotton Material – Made of pure light cotton, the sheets feel soft on the skin and give you that cozy feel when you get on your bed!
Fibers used in the making of hand Block bedsheets in Jaipur
Just like other things, bedsheets are available in countless varieties of fabrics. But not all of them are made equal. All hand block printed bedsheets from Jaipur Hatkar come in either 100% cotton or a combination of cotton and silk with an added touch of pure wool yarn. The natural fiber material used to manufacture our bedsheets is breathable and has an extremely high absorbency level, allowing for a comfortable sleep throughout the night. Our soft hand block print fabric makes it easier for our craftsmen to produce intricate patterns and designs each season with vibrant colors.
The printing process
Jaipur Hastkar produces the best block print bed sheet in Jaipur using the traditional hand block printing method that has been used for centuries in India. The entire process is handled by expert artisans who first use carved out designs on wooden blocks to stamp them onto the given cotton fabric in a unique and beautiful manner. Using the techniques of block printing, and other ancient traditions, each bedsheet is individually produced by hand. With many colors and methods available, the final result is an exclusive piece that embodies beauty and quality.
Additional information
| | |
| --- | --- |
| size | Double bed 90*108, King Size 108*108 |